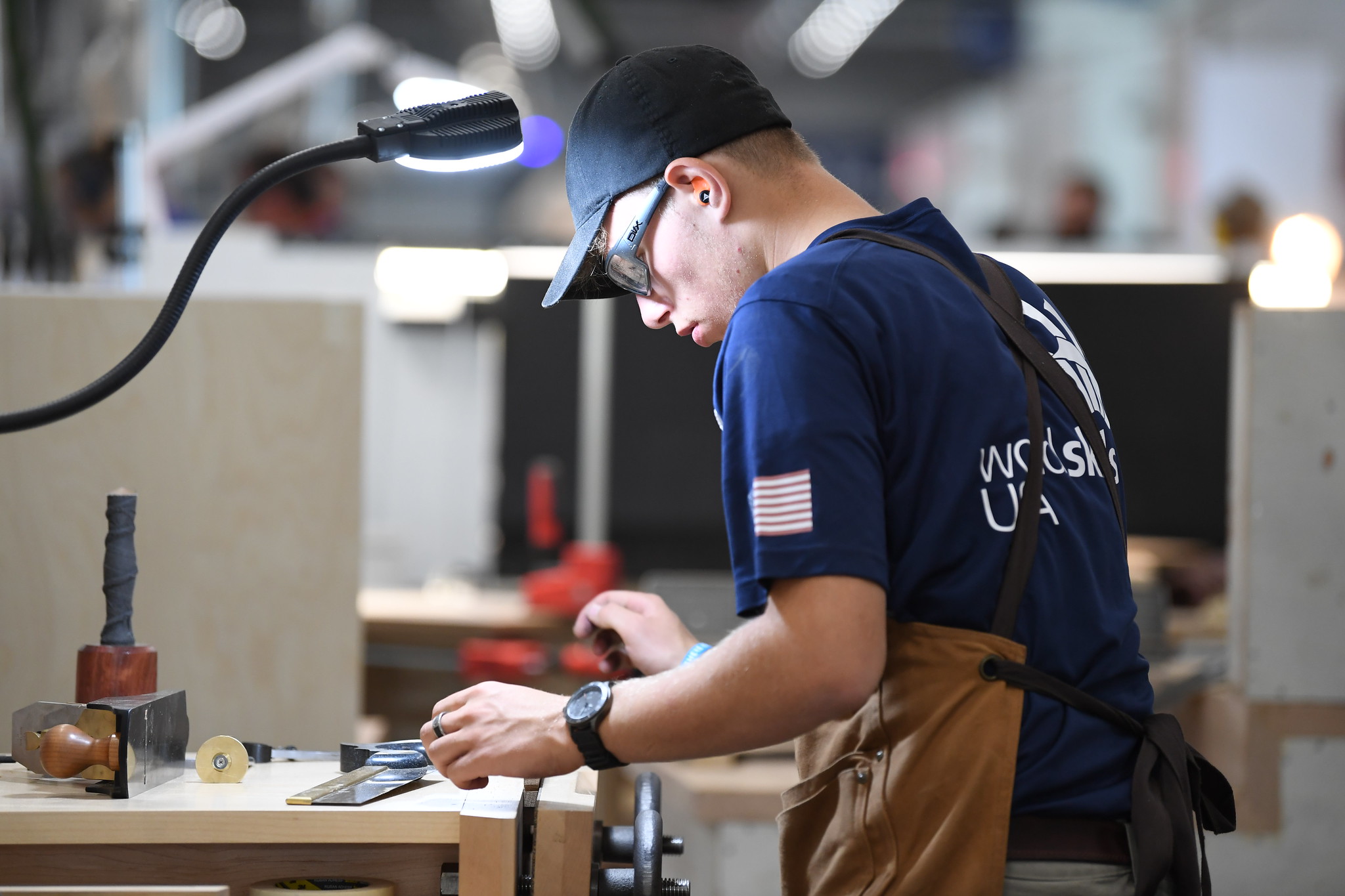 WorldSkills-2019-Closing-Ceremonies
WorldSkills-2019-Ethan-Harrison-G
WorldSkills-2019-Ethan-Harrison-A
WorldSkills-2019-Ethan-Harrison-C
WorldSkills-2019-Ethan-Harrison-E
WorldSkills-2019-Ethan-Harrison-F
Early-bird bidding opens. Enjoy an all-new online experience with the AWFS Fair Silent Auction benefitting the Woodwork Career Alliance.
NELLYSFORD, VA – A helmet signed by four-time Super Bowl champ Tom Brady, guitars autographed by Jimmy Buffet and Ted Nugent, and a South African safari excursion are among the many and diverse items that will be auctioned during the AWFS Fair in Las Vegas.
The silent auction is presented through the special collaboration of Expo Auctions of Sugar Hill, GA, and the Association of Woodworking & Furnishing Suppliers (AWFS). Net proceeds will benefit the Woodwork Career Alliance of North America (WCA), a non-profit organization dedicated to developing and growing a skilled woodworking workforce. 
Separate silent auctions will take place on each of the first three days of AWFS Fair, Wednesday July 17 through Friday July 19. Show attendees and exhibit personnel will be able to view most of the auction items displayed on tables located in the concourse between the two entrances of the Central Hall of the Las Vegas Convention Center. These and other auction items – more than 80 in all – are available now for early online bidding. Expo Auctions' mobile bidding platform allows bidders to participate from anywhere in the world using their smartphone. 
Expo Auctions' treasure trove of interesting and curious auction items will also include an assortment of popular sports, entertainment and historical memorabilia; VIP trips to Tuscany, Belize and St. Thomas; and spirit and wine packages.
As Easy as 1, 2, 3
To participate in the silent auction and review all auction items:
Visit the official auction website BidEarlyBidOften.com or text SILENT AUCTION to 56651.

 Register your mobile phone number, email and name.

Bidding closes at each day on July 17, 18 and 19 at 3 p.m. PST.
Text notifications will be sent to bid winners at the close of each day's auction communicating payment options and pick up. Winning bidders, including those not attending the AWFS Fair, will be charged for shipping their merchandise if required. 
"We are pleased to provide a channel through the AWFS Fair to support the Woodwork Career Alliance and its efforts to strengthen and develop skill standards and a skilled workforce for our industry," said Adria Salvatore, AWFS education and conference director. "We hope to raise funds from this auction so that WCA can help expand school programs, allow more students and professional woodworkers to earn their skill credentials, and provide more resources for teachers to connect with our industry."
 "AWFS has been a fantastic supporter of the Woodwork Career Alliance over the years," said Scott Nelson, WCA president. "We deeply appreciate that the WCA has been designated to receive the net proceeds of this fun fundraising program. As a not-for-profit organization, we greatly appreciate this support to us connect with more schools and woodworking companies to develop the next generation of skilled woodworkers."
Learn more about the WCA and its skill standards and credentialing programs at AWFS booth 10268 or visit woodworkcareer.org.
### 
About the Woodwork Career Alliance
The Woodwork Career Alliance of North America was founded in 2007 as a 501(c)(3) non-profit corporation and is governed by a volunteer board of directors. The WCA's mission is to develop and administer a unified set of Skill Standards for the wood products industry. Since 2011, WCA has developed observable and measurable performance standards and assessments for more than 300 woodworking machine operations. In addition, WCA has issued more than 2,500 credentials, a portable, personal permanent record documenting each holder's record of woodworking skill achievements. More than 100 high schools and post-secondary schools throughout North America are WCA EDUcation™ members. To learn more about the WCA and how to get involved with its programs, including sponsorship opportunities, visit WoodworkCareer.org. 
https://woodworkcareer.org/wp-content/uploads/2019/01/WCA-Logo-v8-c-edit.png
0
0
Richard Christianson
https://woodworkcareer.org/wp-content/uploads/2019/01/WCA-Logo-v8-c-edit.png
Richard Christianson
2019-07-05 00:00:00
2019-07-05 00:00:00
AWFS Fair Auction Opens; Supports WCA's Workforce Development Programs