Sawblade Certificate
Designed for High School Students…
Students in most high school woodworking programs don't accumulate enough class room hours for them to graduate with a Green Credential, which requires a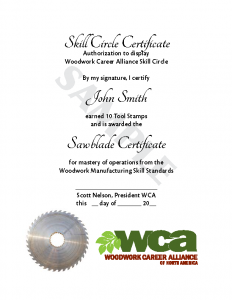 minimum of 800 hours at school or work.
However, we want students in this type of program to have a way of participating in the WCA as well as providing a path to an eventual credential.
To this end, the WCA has created the Sawblade Certificate allows students to participate in the skills testing, and along with an online test, gives them a path
to a certificate recognizing their achievement.  If, in the future, a student who has earned a Sawblade Certificate moves on to work for a WCA member company or attends a member post-secondary school, they can build on what they've already donate earn a full Green level credential.
To participate, the student's school must become an EDUcation™ member and have at least one instructor trained as an Accredited Skill Evaluator (ASE).