Students, Teachers, and Employees – Your Passport to Success!
The Individual Membership is for teachers, students, or company employees who want to participate in the WCA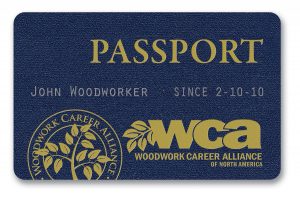 certification process as either a candidate or as an evaluator. Students typically join through a WCA EDUcation member school and employees through a WCA MANufacturing member company, although either may also join as an individual not affiliated with a member school or company.
Qualified Individual Members (i.e. teacher) affiliated with an EDUcation member school or MANufacturing member company may also apply to become an Accredited Skill Evaluator (ASE).
Please Note: An Individual Membership simply allows you to join the WCA and participate as a candidate or evaluator, it does not allow the member access to benefits such as a free copy of the standards, training resources, etc. For that, you must be affiliated with an EDUcation member school or MANufacturing member company. Any individual, however, can purchase a copy of the standards in our marketplace.
Scroll down to learn more about the benefits of Individual Membership for students and company employees…
Students
Woodworking students are the future of our industry and we all recognize how important it is that they be trained properly. One of the great advantages students have who participate in the WCA is that they can earn a credential based on the same standards used by industry. This gives students pursuing a job in the woodworking industry after graduation an extra boost to their resume and differentiates them from the rest of the crowd. The difference is they can prove their competence on each of the tools because they were observed and evaluated by their instructor who has been trained as an Accredited Skill Evaluator (ASE) by the WCA.
In order for a student to participate in the WCA credentialing program, their school must first join as an EDUcation™ member and one or more instructors complete training as an ASE. Once a student purchases a $55 Individual Membership they are eligible to participate. Financial aid is available for students who are unable to afford the full purchase price of a membership.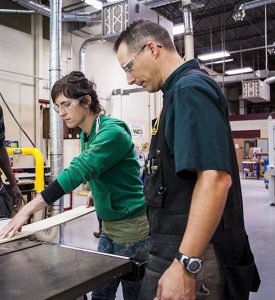 To earn a full Green Credential, students must be enrolled in a qualifying program that includes at least 800 hours of woodworking related instruction or internship hours and be evaluated on at least 15 different tool operations and earning 30 Skill Points. This typically only occurs in selected vocational high school or post-secondary woodworking programs which allows students to graduate with the same type of credential earned in industry.
In order to recognize the achievements of high school or other students enrolled in a woodworking program that doesn't meet the above requirements, we offer the Sawblade Certificate which requires passing a written test and 5 tool operations, or 10 skill points, with no minimum requirement for instruction hours. Most importantly, the hours and Skill Points that a student does earn while pursuing the Sawblade Certificate will count towards a Green Credential if they have the opportunity to pursue one in the future, either at another school or as an employee.
Employees
Historically, the woodworking industry, unlike most other trades, did not have a certification or credentialing process for employees. A credential provides a way for professional woodworkers to distinguish themselves as well as provide a vehicle with which to document their skills and prove what they know. If the credential is recognized and respected by industry, it can lead to more recognition and compensation as the individual grows his or her skills. Most importantly, it's a visible symbol of achievement that a woodworker can be proud of.
The WCA Credential does just that.  Developed in collaboration with both industry and education, it uses observable, measurable Skill Standards to evaluate an employee's skills. To participate in the program, a candidate purchases a $55 Individual Membership, which enters the candidate into the system, and is also a tangible representation of their achievements, skills, and knowledge as they work through the credential levels. Employers value a person who has shown dedication to our trade, and a credential allows employees to celebrate and take pride in their experience as a woodworking professional.
Any employee can join the WCA as an individual by purchasing an Individual Membership and seeking out an Accredited Skill Evaluator (ASE) to evaluate them. Alternatively, if their company is a WCA MANufacturing ™ member, they may be able to get their Passport through the company and be evaluated by an in-house ASE. Independent ASE's may be available from a nearby WCA accredited EDUcation™ institution, or another company with an ASE on staff.
Learn more about the credentialing process here…