Founded in 2007, the mission of the Woodwork Career Alliance (WCA) is to support workforce development for the woodworking industry, which includes certification and training of new and existing woodworking professionals as well as students at both the high school and post secondary level.
For the first time, woodworking students and professionals can earn an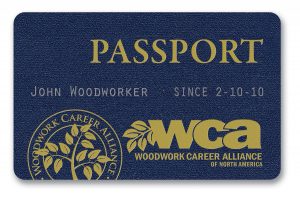 industry approved and recognized credential based on observable, measurable standards and evaluations. Every participant in the program starts by purchasing an Individual Membership to allow them to start recording their achievements.
Learn more about how it all works…
Three woodworking organizations partnered to produce the above six-minute video, airing on public television stations nationwide to create awareness of career opportunities in the wood products industry. Learn More…
Invest in your employees and they will invest in you!
Each year, it gets more and more difficult to find and retain qualified employees.  Our MANufacturing™ membership is designed to help employers train, evaluate and motivate their workforce and reduce costly turnover.
Learn more about how our manufacturing credentialing program can work for you.
Young people are the future…
Ensuring that we have a robust education system to train our future workforce is one of the most important missions we have as an industry. The WCA's EDUcation™ membership is designed to do just that.  Available to qualifying high school and post-secondary woodworking oriented programs, it's designed to provide a training and evaluation structure that will insure that students who graduate with a WCA credential have the skills necessary to succeed in today's industry.
Learn more about how your school can benefit…
Click the map above to find a WCA EDUcation™ member school near you…
The Woodwork Career Alliance of North America
© 2013-2021 •  The Woodwork Career Alliance of North America (WCA) A 501(c)(3) non-profit organization actively promoting a skilled workforce for the advanced woodworking industry and is run by a volunteer Board of Directors.  Please contact us at info@woodworkcareer.org for more information.