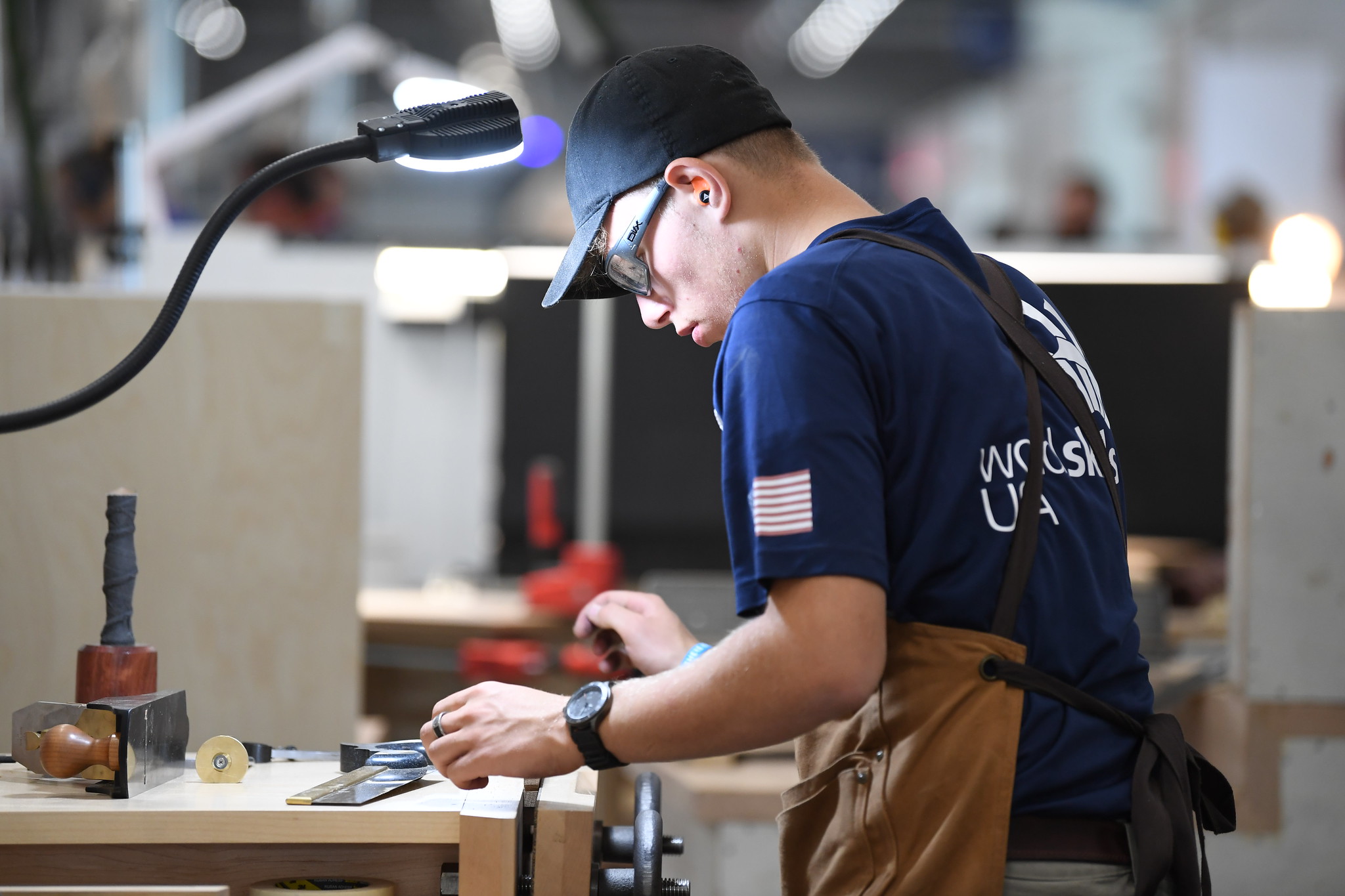 WorldSkills-2019-Closing-Ceremonies
WorldSkills-2019-Ethan-Harrison-G
WorldSkills-2019-Ethan-Harrison-A
WorldSkills-2019-Ethan-Harrison-C
WorldSkills-2019-Ethan-Harrison-E
WorldSkills-2019-Ethan-Harrison-F
Ethan Harrison calls representing the United States in the international competition a 'once in a lifetime opportunity.' 
"Very, very intense." That's how Ethan Harrison described competing in the WorldSkills Cabinetmaking competition held last October in Kazan, Russia.
"Every second you had to be doing something and thinking ahead to the next things that had to be done," said Harrison, who represented the United States in the three-day event. "We were basically given half of the time that you would need to complete the project. It was a challenge for everyone to face the additional obstacles and pressures that were created by the time crunch."
Harrison placed 27th among the 30 WorldSkills competitors, but came within a handful of points of moving up several rankings. "I know I could have done better, but looking around (during the competition) I could see that everyone made plenty of mistakes," Harrison said. "It just depended on where you made them and how everything else went to impact your score."
"I think coming into the competition that we were a little blindsided by the time constraints," said Jeff Molzahn, an instructor of Madison College, who helped Harrison prepare for WorldSkills. "Both of us expected to put out a quality finished product but it was not possible in the allotted time."
Molzahn witnessed the impact of contestants' putting speed before accuracy in serving as an evaluator for the WorldSkills Competition. "When I saw all of the projects standing side by side, I was really kind of dismayed by the fact that they lacked quality. All I saw was a bunch of projects that had a lot of flaws. Whoever got the least number of flaws would get the most points and win."
"Jeff did a great job of training me but neither one of us knew what to expect at WorldSkills," Harrison said. "The competition required you to do multiple parts at once and then turn them in on a timetable. Because I had not trained for that and was not aware of it, I was at a huge disadvantage to many of the competitors who either had competed in other world-wide events or had experts who had experience in those competitions."
Adding to the time-induced stress, Molzahn said, were the "tight quarters" assigned to each of the 30 competitors. "They were really packed in there, probably a 10-foot by 12-foot space to work on their project."
Molzahn said the project was a free-standing, two-door cabinet with one drawer and a sketch face veneer top. The unit was about 36 inches tall, 24 inches wide and 18 inches deep. In addition to producing the sketch face, some of the other skills the contestants had to demonstrate included hand-cutting dovetails for the drawer, crafting mortise-and-tenon legs and rails, edgebanding panels, constructing panel frames and installing door hinges.
Training for WorldSkills the WCA Way
A graduate of Blackfoot High School in Blackfoot, ID, Harrison qualified for WorldSkills by winning a one-on-one competition at SkillsUSA 2018 in Louisville, KY. The year before, he won the Silver medal at the SkillsUSA nationals.
To prepare for the WorldSkills stage, Harrison spent eight months training in Madison, WI, often interacting with students enrolled in Madison College's Cabinetmaking & Millwork program. He also worked on three different yet similar test projects, all small furniture pieces. A significantly modified version of what Molzahn referred to as the "Ireland project," was used at WorldSkills.
In retrospect, Molzahn said he probably was not strict enough about setting time limits Harrison to complete the test projects. "What happens at the competition is that they have less than 24 hours over three days to build these cabinets that would take a cabinetmaker 60 hours or more to put out a quality product. They are really rushing these kids. I didn't fully understand that until I got there and saw what was going on.
"I trained Ethan as a cabinetmaker," Molzahn continued. "He learned knowledge that we can take with him for the rest of his life. If I had just trained him as a competitor – made him build each test project three, four or five times – he might have done better in the competition, but that's about it."
"I think the biggest advantage of training at Madison College was being able to use all of the machinery there, especially the shaper which was the primary tool that we used in Russia," Harrison said. "The panel saw was another key tool used heavily in the competition. By and large, having so much time to work with the machinery helped me gain the skills I needed so that I felt comfortable walking up to a machine and just go."
As part of his training, Molzahn, who is an assessed skill evaluator for the Woodwork Career Alliance of North America, introduced Harrison to the WCA's Passport credentialing program. Harrison earned his Blue credential plus tool points toward the Green credential, the second level of the WCA's five-level credentialing system.
Harrison said he benefitted from being evaluated on a wide range of the Woodworking Skills developed by the WCA to earn tool points for his credentials. "It was a way for me to test my skills including the core things you should be thinking about every time you walk into a shop or turn on a machine. Now, with the Passport, I'll have something to show to a shop owner that I have these skills when it comes time to look for a job."
A Bright Future
Harrison went home to Blackfoot for a couple of months before heading to Lima, Peru, on a two-year mission for the Church of Latter-day Saints. After he completes his mission, he plans to enroll in Pittsburg State University's Architectural Millwork and Manufacturing Technology program. "My goal is to work in an architectural woodworking shop, hopefully in project management or shop management," Harrison said.
Molzahn is confident that Harrison will have a successful career. "His hand skills are just out of this world. He's a hard worker, works well within a group and showed during his time in Madison that he is capable of grasping an incredible amount of technical information."
"I'm so grateful to all of the people who have helped me from my high school shop teacher to Jeff and all of the other mentors I've had in life and woodworking," Harrison said.
"Participating in WorldSkills was a once in a lifetime opportunity and I have no regrets. I did my best. I moved 1,500 miles from home and trained as hard as I could and with all of the resources I had. In the process I learned a lot about life and a lot about building cabinets. I look back on it positively, even my ranking. It was still an honor to stand alongside 30 of the best young cabinetmakers in the world."
An Olympic-like Atmosphere
Ethan Harrison, the U.S. representative in the 2019 WorldSkills Cabinetmaking competition held in Kazan, Russia, said the ceremonies of the event reminded him of the Olympics.
"There was an entire soccer stadium filled with people and fireworks going off as each country was introduced and walked up to the stage," Harrison said. "That was probably the biggest moment for each of us, the pride and honor of representing our country and waving our flag."
Jeff Molzahn, instructor of Madison College, also likened the pageantry of WorldSkills to the Olympics. "Russia invested a lot of money into the event and they were just wonderful hosts," Molzahn said. "To me it felt like what I see on TV when I watch the Olympics. The opening and closing ceremonies were sensational. They even had President Vladimir Putin there to give a speech for the closing."
A total of 1,354 young professionals representing 63 countries competed in 56 skill competitions. In addition to cabinetmaking, the event included contests in 3D digital game art, floristry, cloud computing, CNC milling, mobile robotics. baking, hair dressing, freight forwarding to name a few.
First held in 1950 in Madrid, Spain, WorldSkills aims to "raise the profile and recognition of skilled people and show how important skills are in achieving economic growth and personal success." The 46th WorldSkills competition will take place in Shanghai, China, in 2021.
Learn more at WorldSkills.com.
https://woodworkcareer.org/wp-content/uploads/2018/07/WorldSkills-Logo.gif
200
200
Richard Christianson
https://woodworkcareer.org/wp-content/uploads/2019/01/WCA-Logo-v8-c-edit.png
Richard Christianson
2020-01-21 16:45:34
2020-01-21 16:46:53
Young Cabinetmaker Savors WorldSkills Experience