There are four types of memberships in the WCA; below are short descriptions of each.  Please review each membership type, but pay close attention to the type(s) of memberships that apply to you…
For Students, Teachers, and Employees…
The Individual Membership is for teachers, students, or company employees who want to participate in the WCA certification process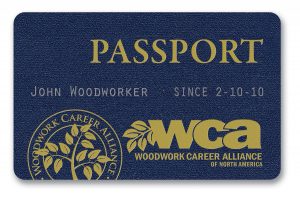 as either a candidate or as an evaluator. Students typically join through a WCA EDUcation member school and employees through a WCA MANufacturing member company, although either may also join as an individual not affiliated with a member school or company. As an evaluator, you may not perform assessments on anyone who doesn't yet have an Individual Membership.
Cost: $55
Everyone who wants to participate in the WCA in any way needs to first obtain an Individual Membership.
EDUcation Membership
For Schools – The first step to credentialing students…
Designed for secondary and post‐secondary woodworking training programs. The EDUcation membership allows a school to begin certifying students using the WCA's tool skill standards. In addition to student certification, benefits include the Essentials Benefits Package, which are free tools, material, software, and classes donated by industry vendors on a yearly basis and access to free training resources that can help augment a school curriculum.
Two important things to note: Instructors must be Individual Members and affiliated with an EDUcation member school before applying to become an Accredited Skill Evaluator and students must be affiliated with an EDU Member school in order to pursue a certification or credential.
The membership runs from July 1st through June 30th of each year. (Schools subscribing between March 1 and July 1 get up to FOUR months free membership, ending June 30 the following year). Please review the important dates on the EDU Calendar if you are working to become an EDU Evaluator.
Cost: $250/yr.
MANufacturing Membership
The WCA MANufacturing™ membership is designed for forward-thinking wood manufacturing firms to evaluate, recognize, and reward employees. The MANufacturing membership allows employers to have one or more of their employees trained as in-house evaluators. Benefits include customization of the program to fit a company's needs including development of new skill standards to match their equipment as well as access to free training resources that can help augment in house training programs.
Important Note: In-house Evaluators may evaluate any of the member company's employees who have an Individual Membership, but the results are not officially entered in the registry until an on-site audit of the results is performed by the WCA. However, if the same Evaluator assesses candidates who are employees of another company or students at an EDUcation member school, the results are immediately active.
The membership runs for one year from the date of purchase.
Cost: $250/yr.
INDustry Sponsor
The INDustry Sponsor program allows manufacturers and distributors of woodworking machinery and supplies and other industry stakeholders to support the WCA and woodworking education. There are many schools and students who want to participate in the WCA credentialing program but are unable to do so because of financial limitations.
The annual Silver Sponsorship of $250 will help defray the program cost for the school of the sponsor's choice that they would like to support. If they don't have a particular school in mind, the sponsorship will help schools and/or students that have expressed a need.
Gold Sponsorship packages are available for $1,000 to companies who would like to contribute more to support WCA workforce development initiatives. Company logos of Gold sponsors are included on the WCA's website and featured in the WCA's Pathways e-newsletter for one year.
Click here if you're interested in learning more about the WCA INDustry™ Sponsor program and benefits of each package.
https://woodworkcareer.org/wp-content/uploads/2019/01/WCA-Logo-v8-c-edit.png
0
0
Greg Larson
https://woodworkcareer.org/wp-content/uploads/2019/01/WCA-Logo-v8-c-edit.png
Greg Larson
2020-07-23 13:22:54
2020-07-23 14:32:54
02 – WCA Memberships