Details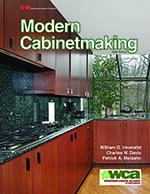 Modern Cabinetmaking is a comprehensive text that focuses on the techniques used by custom cabinetmakers and advanced wood manufacturers. Goodheart-Willcox publishes these materials and keeps them current. This edition has been updated and edited by WCA Board Member Patrick Molzahn, Cabinetmaking & Millwork Program Director, Madison Area Technical College, 1701 Wright St., Madison, WI 53704
http://madisoncollege.edu/program-info/cabinetmaking-and-millwork
The text and workbook correlate to Woodwork Career Alliance standards, ensuring that students gain the skills they need to be successful in industry.
Content is organized in a logical sequence, teaching students the design and construction process in a step-by-step manner.
Three new chapters have been added for this edition—Cabinetmaking Industry Overview, CNC Machinery, and Sharpening—to support student learning of the latest standards, technology, and techniques.